BIOGRAPHY
Roger began playing congas on the streets of Washington DC in the late 60's. He moved to San Francisco in 1971 and took advantage of the thriving music scene playing with Latin, Brazilian and Funk bands. Roger credits Cuban master drummer Armando Peraza and percussionist Bill Summers with greatly influencing his playing in those years. In 1977 Roger joined the Bay area fusion band " Nite Flyte" and moved to New York City where he began studying with the Brazilian percussion master Da Um Romao.
In 1978 Angela Bofil saw Roger playing with Niteflyte and hired him for her first recording "Angie", which was produced by Dave Grusin. Grusin began using Roger for many of his projects with his new record label GRP. One of these projects was for the artist Dave Valentin. Roger became a member of Valentins' band from 1979 to 1984 and recorded on five albums with him.
During the early 1980s' Roger toured with Angela Bofil and also with Dave Grusin & the "GRP AllStars" and became a much in demand session player, recording on many albums, film scores and Jingles.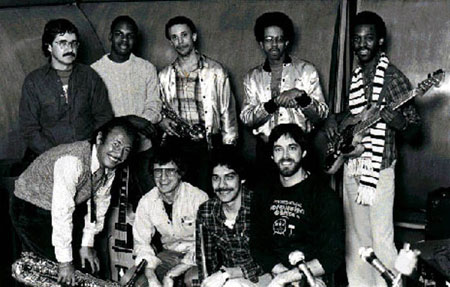 Dave Grusin Band
In 1983 and '84 Roger toured with Irene Cara after her two smash hits, "Fame" and "Flashdance" and then with the Brazilian singer and pianist Tania Maria.
In 1986 Roger accepted a gig playing percussion in the Broadway show "The Big Deal" directed and choreographed by the legendary Bob Fosse. That same year Roger joined Michael Franks band, touring and recording with Michael off and on over the next ten years.
Al Dimeola recruited Roger for his world tour in 1988 and 1989. This band included the great Brazilian singer Ze Renato. After the tour, Roger went to Brazil for Carnival and played with the Samba School "Via Isabel" and later recorded with Ze's band "Boca Livre".
Roger stayed in Brazil for a month and returned with the idea of bringing group drumming to non musicians as a way to further their creativity, teamwork and to reduce stress. This led to forming "Circle Rhythm", which is Rogers' percussion workshop group. Roger created and made instruments for non drummers to be able to participate in a Drum circle without having to spend years learning the techniques necessary to hand and stick drumming. Roger began leading workshops for small business groups, Corporations, Schools and Drummers of all levels.
During this period in the early 90's Roger wrote music for the award winning PBS kids television series "The Puzzle Works", and his extensive knowledge of Instruments led "Latin Percussion Inc.", for whom Roger has been an endorsee for over 20 years, to hire him as a Product Development Consultant. Roger worked in this position for two years and helped develop LP's Shekere and Percussion Table.
In 1991 Roger began a long association with the great Tap dancer, Singer and Actor Gregory Hines. Roger Played with Gregory Hines band for 13 years and credits Gregory as being a huge influence both as a Performer and professional Role Model.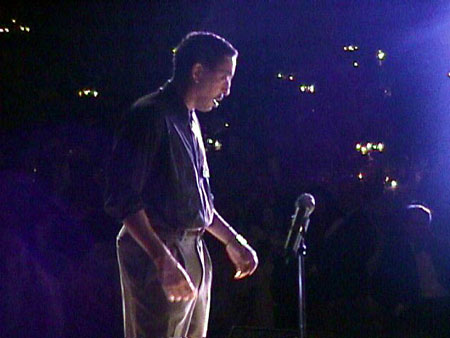 Gregory Hines on stage
In 1994 Roger performed in his second Broadway production "Chronicle of a Death Foretold" directed and choreographed by Graciela Daniel, where he met his wife, actress and singer Saundra Santiago.
In 1997 Roger joined Vanessa Williams band and continues to perform with her.

In 1998 Roger returned to Broadway for Frank Wildhorns' "The Civil War".

In 1999 Roger began touring and recording with the Pop, R&B Superstar Luther Vandross and was a member of his band until his passing in 2005.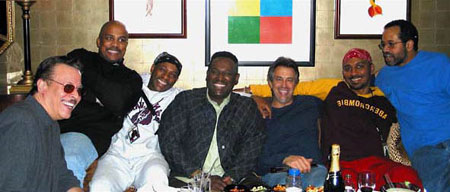 Luther Vandross and band
In 2005 Roger performed once again on Broadway with the show "BKLYN the Musical"
Roger joined the legendary Bassist Ron Carters' Quartet in 2005 and recorded the album "Dear Miles".
2006 Roger played percussion on the Disney Broadway production of "Tarzan" where he met and worked with Phil Collins. This production also had Roger working with percussionist Javier Diaz and began a collaboration which continued after the show closed with the recording project "Tribal Sage".
In 2008 Roger played the Cirque Du Soliel show "Wintuk" at Madison Square Garden in New York City and continues to work off and on with Cirque.
In 2009 Roger returned to Broadway as a featured percussionist with the show "Burn The Floor".

2010 had Roger back working with Cirque Du Soleil in their production " Banana Shpeel" at the Beacon Theater.

In 2011 and 2012 Roger played percussion for the Broadway show from Australia "Priscilla Queen of the Desert"

Roger will be performing with the Dizzy Gillespie Afro Latin experience this year.

Roger played the Broadway show "Motown" 2013, 2014.